With all this talk about gliders, I have been thinking a lot about certain boards that I have loved. The board I have thought about most was the one I wrote about in a recent post on the glider thread relating a magical day in the water. And with the death of Pat Curren I have also been thinking about some other historic surf icons of similar time. And the board on my mind was shaped by Tanner Prairie, who, for those not aware, learned to shape from Mike Marshall who learned from Quigg. And I have even heard that Tanner, along with another shaper, have inherited a lot of Quigg's templates. The glassed on fin on the board I rode is even named by Tanner as a 8.5" Quigg Speed Fin. All this to say: I have been thinking about Joe Quigg.
Now, of course his boards worked. And even worked well, we should agree. Known now for the origin of the malibu chip and other general board design that was characterized as being easy to surf. (And for the Simmons voices out there I also love Simmons, but I am focused on Quigg) Hell, even Miki Dora fell in love with a Quigg pintail given to him from Gard Chapin, as we know. If his boards worked so well for them, well of course I would have a similar reaction. Not to say that I am any Dora.
But I remember being so astonished with the Tanner when I first rode it--having been originally quite afraid of its wide tail, large fin, and minimal rocker alongside being not incredibly awestruck at the flat bottom and soft, thick 60/40 rails--that I
needed
to get more information from Tanner. The question, "Why did it work so well?", would give my mind no rest. Now I had a great phone call with Tanner but I am open to saying that it was not much more information than I already expected: 60/40 rails being fast and a flat bottom planing well, etc. But I was reminded of a real lesson in simplicity.
[As I have written before] The 11 ft (I might have missremembered the length once or twice but sources would have it as 11ft) board could catch a rolling beach break ending with a 100yrd ride, but it could also bottom turn like no other. For every soft wave I surfed, I surfed it equally in a dumpy beach break. And somehow the heft of the board swung like butter and I would leave the water thinking I was Phil Edwards after running up towards the nose a couple times or making any section with fast trim. Magic!

So here I am looking through articles, videos and photos about half a year later and it hits me that I have seen these boards before. Or at least something very similar. And with these recent threads on my mind I go to Daydream's website to see if they have any photos of this magic board I have had the privilege to ride and sure enough they do. And comparing most of the outlines--but specifically the whitish-grey board with blue graphic on the nose--the similarity is impressive. (The whitish-grey board was reportedly a gun for Buzzy Trent and later owned by Dora; note the outline of the Quigg speed fin) For further comparison, the Tanner has such minimal rocker by our current standards to be flat, as reported by its shaper.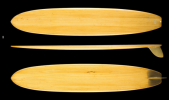 Now the conclusion I am headed towards might be quite predictable at this point, but I must make it clear that I in no way want or advocate for the diminishing of Tanner as a shaper. If he has Quigg's templates, I am all the more happier that he use them,
if he even does,
as good design is simply timeless. Or as if I had any right to tell him that he could not. Let alone the historic experiential significance I have now been through and his ability to shape, regardless.
But the arrow went thud, a bullseye in my brain, the Tanner I have ridden should be thought of as a Quigg. Or at least as close to riding a Quigg as I might ever get. And I simply find it an incredible testament to Quigg, and Tanner, as a shaper that I have had this experience against the plethora of new designs I have ridden. It is like walking through a city of beautiful, varied architecture only to find that an oak at its center is the most beautiful.
Here's to Joe Quigg. Timeless design makes for a timeless ride.
These two captions pose an interesting question. Was the above board shaped for Buzzy Trent and later owned by Miki dora a seperate board from either of the two in these images (impossible to know, probably) or is one of these captions wrong? Interesting, nonetheless.
Edit: under the same photo as below is this caption from SHACC:
And finally, it should be obvious that Quigg had designed a surfboard that rode well simple from this photo, perfect trim:
PHOTO SOURCES:
https://www.surfersjournal.com/editorial/the-archivist-turning-points/
https://daydreamsurfshop.com/collections/used-surfboards/products/110-tanner-baby
https://tannersurfboards.co/longboards
https://www.shacc.org/2019/01/05/joe-quigg-design-alternatives-part-3/
Last edited: